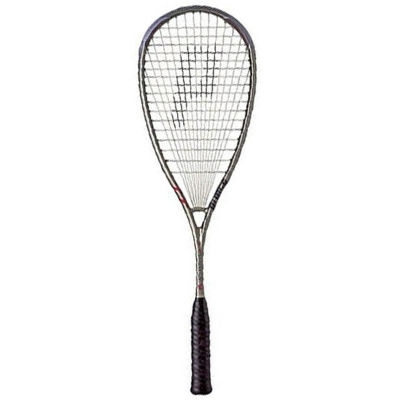 The Prince TT Sovereign squash racket has all the advantages of the triple braid system at a fantastic price! This top of the range racket used by most tour pro's, incorporates tungsten, copper and titanium in the head. This unique weighting system is used in conjunction with the trademark Power Scoop shaft gives the Sovereign unrivalled power and control – while helping to reduce arm shock - with an all up weight of only 135gms. Technology includes Wallglider bumper for added confidence on those tight to the wall shots; Power ring increases the length of the down strings for more power and the Power Scoop Shaft absorbs wall and floor impacts for more comfort and durability.
The Prince TT Soveriegn Squash racket has the following features:
Powerscoop Shaft - A unique shaft which absorbs wall and floor impacts for more comfort and durability, yet provides full frame stiffness for maximum ball striking power.
Power Ring - Innovative and patented racket design where all main strings wrap around an inverted ring. This provides longer, more uniform string lengths for more consistent response and greater power in a more durable frame.
Wallglider Bumper- A performance bumper made from low friction polymer that allows the racket to glide against the walls and floors helping to return the tightest shots.
Triple Threat with Tungsten - A unique balanced weighting system that focuses Princes exclusive Triple Threat material in three critical racket locations. The end result is perfect balance and stability in a racket that will improve your game.
Weight:135g
Head size: 480cm/74.5
Frame: 20-18 mm duraframe
Grip: Cushion fit grip
String: Sweet Perfection 17 string