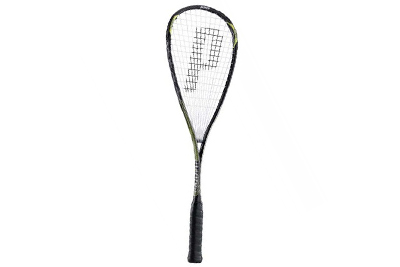 The EXO3 Rebel is ideal for players seeking enhanced performance from an extremely aerodynamic 135g lightweight frame featuring Princes revolutionary EXO3 technology, offering lightweight power, a superior sweet spot and unique manoeuvrability for unsurpassed shot making accuracy and playability from all areas of the court.

Prince EXO3 rackets provide the largest sweet spot for perfect control, ultimate speed, more power and unmatched stability for pin point accuracy.

Speed:
Wind tunnel testing proves EXO3 Speedport frames move through the air up to 24% faster than traditional rackets allowing players to hit their best shots more often, even faster.

Energy Bridge:
The revolutionary new idea behind EXO3 is the patented Energy Bridge, an EXO skeletal structure that suspends the string bed from the frame increasing virtual head size for up to an 83% larger sweetspot. In addition frame vibration is reduced by up to 50%.

Energy Channel:
The Energy Channel enhances the dynamic effects of the Energy Bridge and is a sculptured groove within the frame that provides unmatched stability boosts the ball control and increases spin by up to 25%.

Sweet Spot:
EXO3 rackets enlarge the sweetspot by up to 83% over traditional racket construction.

Control:
EXO3 construction provides unmatched stability for up to 26% more control on every shot.
Headsize: 73in/470cm
Racket Weight: 135 grams (unstrung)
String Pattern: 16x16
String: Super Syn Gut 17
Cover: Full Thermal
Balance: 37.7cm
Length: 27in/68.5cm